Our Story
Eleven Years Earlier
Perhaps fitting, our story begins at a wedding. About 11 years ago Jana contributed several short stories to a magazine published by Chris' sister, Brook. In 1999 Jana flew to Phoenix to attend Brook's wedding. We spoke briefly at the wedding, but that's all. And it never occurred to either of us that we would meet again. God had other plans, and here is our story.
Present Day
Chris: It was October 2009 that I sent a message to a cute girl with the screen name 'gracegirl81' (I didn't know it was Jana) on Sovereign Grace Singles, an online site for Reformed Christians. My first message was to say hello, and see if I got a response. The next day, I received a message in my inbox from Jana and she told me who she was, and saying she had met me before at my sisters wedding. My first thought was that that was completely random. Of all of the women I could have contacted, I picked one I had met previously.
Jana: I was quite surprised to get that first message from Chris. Was this really the same guy that I had met all those years ago at Brook's wedding? I wrote back and inquired and sure enough, it was. How odd. And a bit exciting. From that first note, I was intrigued because Chris mentioned he liked photography, and hinted that he also enjoyed traveling, same as me. I happily answered each new e-mail as it came, but didn't give it much thought. I was busy with work and settling into a new apartment, so saw Chris as a new friend, nothing more.
Chris: Things crept along at a snails pace for a few months, actually. I would send Jana an email with a bunch of questions; she would answer them promptly, and then I would answer them myself -- a few weeks later. Yeah, I wasn't exactly in a hurry at that point. After a dozen rounds of questions and answers over four months (all by email) there was one point when I took too-long to respond, and Jana gently hinted that she needed me to tell her where this was going, and if it was going anywhere. Suffice it to say, a few days later I had made arrangements to visit Jana and her parents and siblings in Wisconsin. It was one of the best decisions I've ever made.
Jana: I debated long and hard about whether to write that "gentle e-mail", lol. I didn't want to seem forward, but I was also realizing I was eagerly anticipating Chris' e-mails a bit more than I should -- if this was to be strictly a friendship. The more I learned about him, the more I wanted to know. He had strangely captured my heart, my attention, in a way I never quite expected. Meeting him in person seemed the next best step in determining if we should take the next step into courtship or not. And I was happy (if not a bit nervous) for that meeting.
March: The first visit
Chris: My first trip to Wisconsin was absolutely terrifying. I kept thinking it would either be the best weekend ever, or the most awkward. What if we didn't like each other? I was stuck until Sunday night! I flew up on a Thursday. Or rather, I flew part of the way, and due to a flight cancellation, had to get on a bus from Chicago to Madison. After arriving about 6 hours late, Jana picked me up at the airport. Definitely not the most impressive entrance.
Jana: Impressive? I was impressed that this guy was keeping his cool in how the crazy travel day unfolded! I also found the wait agonizing. I actually sat at the bus station for about 70 minutes, half of the time talking to a girlfriend on the phone, the other half just sitting and thinking. About a week earlier, I was praying about Chris' visit and wondering if this would be a complete disaster, or end up being the best weekend of my life. In a still, small but clear voice, the Lord said this was the man I was to marry. At the time, I believed but was still unsure. I was at peace, but still nervous. Who wouldn't be?? Meeting Chris at last at the bus station was fun. I immediately felt at ease. There was the awkwardness of first time conversation, but immediately saw that Chris was the same genuine, funny guy in person, that I had gotten to know over e-mail.
Chris: We drove to Hillsboro, about two hours away, in the thickest fog I had ever seen. We arrived at the Baldridge home around two in the morning. Surprisingly, everyone was awake, because they wanted to meet me. No pressure, right?
Jana: Chris scored big with my family, just 10 minutes into that first late night meeting. Somehow, we got to talking about the country of Turkey and my dad wondered aloud, "What language do they speak in Turkey anyway?" It was quiet for a couple seconds, then Chris offered, "Um, Gobble-Gobble?" My family went into hysteric laughter and I realized he'd fit in just fine. It's very rare to find someone with the same Baldridge humor. Hmmmm...maybe this guy was The One!
March: We begin courting
Chris: I was thinking the same thing, actually. And over the next few days, we spent hours talking, and getting to really know each other. I had brought a list of things I wanted to talk about, and she answered each question in a way that made me happy. I also spent quite a bit of time meeting Jana's family, including her two grandmothers, and all of her siblings.
Saturday evening, I knew I really liked Jana, but she hadn't completely expressed the same to me – yet. That's because she was individually talking with her family members to see what they thought of me. After dinner Jana's dad suggested we talk together, and separately suggested to Jana that she go and clean her room.
So Dennis and I sat down in the living room, and all of the family members magically disappeared.
I don't know how long we talked, but it must have been an hour. One of the first things Dennis asked me was if I was interested in pursuing marriage with Jana, and I said yes.
Dennis told me that not only was Jana interested, but that the entire family liked me. For some reason, it astonished me that I had received the thumbs up from the entire family.
We had a long conversation about a variety of topics, but most of it was about setting expectations for courtship, and what that meant, and what it didn't.
Jana: It was pretty obvious what was coming! My dad came to get me about an hour later with a hug and the words "Chris really wants you." I wasn't sure whether to laugh or cry! So I did neither and followed him back into the family room...
Chris: When Jana came back in the room, she enthusiastically agreed to begin courtship. I was so happy and excited, and after some more conversation called my parents in Scottsdale to tell them the news.
Jana: Wow. It had really happened. I was courting this fine gentleman named Chris Tingom. After it was official, I moved from my seat on the recliner to the couch where he sat. Not right next to him, mind you – but it was closer. We all agreed that by the fall, if the Lord still led, that we would be married. Wow again. Family members came down to congratulate us, and Chris and I stayed up a bit later than that to chat.
Chris: The next morning was Sunday. I didn't sleep a wink the night before, instead I was awake all night praising God. At church, we announced our courtship and I met Pastor McShaffrey (who would later marry us). Jana and I are both members of the OPC, which is very convenient.
Jana: Goodbyes are never easy for me. When Chris and I parted at the airport later that afternoon, we hugged briefly – then I couldn't help but pull him into another hug. And cry. My heart tightened in a way I never had experienced before. I would greatly miss this new best friend of mine (a GUY no less). Something beautiful and wonderful was beginning to grow: love.
April: The second visit
Chris: My next trip to Wisconsin was a month later, in April, and this visit was mostly about confirming that we were really a good match. We spent hours going on long walks around the family home in Hillsboro.
Jana: This was a fun visit! Another weekend to talk, do stuff with my family (like decorating Easter eggs and having an egg toss) and say our favorite phrase, "I like you." Actually, that grew into "I really, really like you" over e-mails between the visits and we enjoyed saying it to each other. :-) I wanted to change it to "I love you", but wanted to have him say it first.
Chris: Jana's brother Timothy and his wife Lydia invited us to a late lunch at their home in Madison before my flight home. So we enjoyed an afternoon with them before going to the airport.
It had become increasingly evident that "like" wasn't the right word, but wanted to save "love" for a special time. Knowing we would have about an hour to wait at the airport, I waited...
We found a couch at the airport and it was there that I first proclaimed to Jana that I loved her. It was so special.
Jana: Chris was the sweetest in the world that moment. A girl never forgets when her guy first says "I love you". It may have been in a busy airport, with people buzzing around and our hearts heavy that we had to part – but oh the JOY of hearing those three words, and being able to say it back!! I did love my Chris. With all my heart. God had given a precious gift that I deeply treasured.
May: Chris' third visit to Wisconsin
Chris: The purpose behind this visit was to see Jana and ask her father for his permission to marry her. That was the easiest question to ask, because I had never been so sure of anything in my life.
I had let Dennis know I wanted to talk about "next steps" and when he said he was going to take a short drive, I hopped in the car – leaving Jana alone to finish making bagels.
Jana: Oh, I totally knew what Chris was up to! I didn't think he'd propose that weekend, but I was certain those two had some talking to do. I was excited, but kept on with my baking. I was totally confident of my dad's answer.
Chris: We had barely left the garage when I asked Dennis the question – and we weren't even halfway down the driveway (and if you've visited, you know they have a very long driveway) when Dennis had given me his permission to marry Jana.
Jana had already bought tickets to visit Phoenix, and I wanted to make sure she would see my home in Scottsdale before I proposed. So I planned and plotted...
Jana: I can plan and plot too. :-) After church that Sunday, before heading to the airport, I took Chris on a detour. I swung by a little out-of-the-ways park in Reedsburg and told him, "I thought this might be a nice place for a wedding." Chris agreed! ? It was hard to talk specifics about a wedding when still courting, but we chatted about ideas for setting up chairs, where a wedding party might stand, etc. It was a beautiful sunny day. My handsome man was standing in the place I had dreamed to have a wedding for three years now. Would it come true this fall?
May: The proposal
Jana: I took a week off work to fly down to Phoenix and visit Chris and his parents, and knew I'd come back engaged. Chris may have kept details a secret, but with comments like "Your left hand looks like it needs something", it was obvious! I loved seeing his house (our house?), where he worked, places he had talked about, and just sitting on the back patio and talking. I could easily see myself living in the area.
Chris: By now, Jana knew I was going to propose – but when? I had kept it a secret and waited nearly a half a week before the special day. My parents and I gave Jana a tour around town, showing her some tourist spots, and I showed her my home.
I had given Jana an itinerary that listed a fancy dinner for Saturday, but it was actually on Friday at 5 pm that I announced that dinner that night would be out instead and quickly explained I would be going home to change.
I rushed out the door, and ran over to the florist to get some flowers before they closed for the night. Then, ran home and put them in water while I dressed. I then ran over to the jewelry store to get the ring which had been completed that afternoon – good timing!
Then, I went back to my parents and gave the flowers to Jana. She was dressed in the most beautiful turquoise dress.
Jana: I looked long and hard for that turquoise dress. :-) I had wanted something special to wear when Chris proposed, something I could also possibly wear at the rehearsal dinner and possibly as a going-away dress for the honeymoon. Ah, women and details. I had so much fun dressing up!! Chris looked pretty handsome himself when he showed up at the front door with some roses.
I determined from that moment, not to figure out the details of the proposal. I wouldn't be suspicious, I wouldn't be on the lookout for something "different". I would just enjoy the evening with my best friend. (If you were to ask me when I thought he'd pop the question, though, I would've said after dinner, as we walked thru the gardens.)
Chris: I planned to propose during dinner at a local resort. Jana's parents were with us, and so my parents joined them at a separate table and Jana and I had our own table, in a far away corner. It was perfect.
Jana: We ordered our food, talked, and said "I love you" a lot :-). Each course was amazing and I was very happy. We had a nice corner booth to ourselves; there was a large group in our area as well, but it wasn't distracting. Or maybe we were just too much in love to care?
Chris: After our dinner dishes had been cleared, and our dessert had been ordered, I casually mentioned to Jana that it was a bad time but I needed to use the restroom. I know, classy.
Jana scooted out of the booth and I followed her, and while she was facing the other way, I knelt down and holding her hand I proposed. What I said isn't important, what she said is… she said yes and the rest is history! It was, up until that point, the happiest day of my life.
We enjoyed our dessert and sat together for a while. It was a wonderfully romantic dinner. After that, we found our parents on the other side of the restaurant and told them the good news.
Jana: I wasn't in shock, but definitely couldn't believe that the shiny ring on my finger was actually mine. I never wanted to let go of Chris' hand. We were engaged!!!! I was getting married! ("Ack!" to continue to the quote from "Father of the Bride) Chris then had another surprise for me: the resort offered gondola rides around their huge lake, and would I like to accompany him? Ah, the romance of sitting in a boat, next to the one you love, with Italian songs being softly song. It almost made me feel like I was in Europe again. It was a perfect evening, a perfect proposal. Praise God, who does all things well in His time!
During the remaining couple days, we settled on a wedding date – September 4, 2010. That date had already been semi-reserved and it looked to work all around! Just over 3 months. And in that time (besides doing wedding preparations), I was to take a 3 week missions/sightseeing trip to Eastern Europe. And pack up all my stuff. And move out of my apartment.
It would definitely be a busy summer. :-)
The Wedding Day
Jana: The week leading up to September 4th was chilly and rainy. Our plans were for an outdoor wedding (at the park I took Chris to back in May!) and as Saturday got closer, it was evident that our park was still going to be flooded. So 24 hours before the wedding, Chris and I were park hunting! Yes, it was stressful. But God led us to a lovely little place right across from the church we had reserved for preparations – and in the end, it worked out better than the other location.
I had so many wonderful friends who flew or drove up to Wisconsin for our special day. They trickled in all through the week, some even bringing their husbands and children! They were the best bunch of girlfriends one could ever ask for in running errands, organizing, decorating, preparing food, and making sure I got sleep. :-)
Saturday morning I woke up, saw the sunlight peeking through the hotel curtains and had to squeal – this was it!! Our wedding day! I get to marry my best friend!! When 1pm came, I was more than ready to have my dad escort me down the aisle and pass the authority along to Chris.
The day was beautiful – in the 60's, clear and sunny, just a slight wind which kept the bugs away. The wedding party looked perfect in their brown dresses or ties, with autumn colored roses. Almost 200 family members and friends witnessed the ceremony and celebrate at the simple reception. The cake, with the beloved Willow Tree topper, totally went beyond what I had envisioned. And our friend Evy captured every moment with her amazing photography skills.
When Chris and I finally took that memorable walk to our car, and people showered us with rose petals, I was a mixture of smiles and tears. The day had been everything I ever imagined; there were no details I wished were different (well, except maybe more time to talk to all the guests). There had been so many changes in this year, many changes to come. But I was happy. I had married my best friend, the man God had chosen who was exactly what I needed. Let the adventures continue!
It will be said on that day, "This is the Lord; we have waited for Him; let us be glad and rejoice in His salvation." – Isaiah 25:9
P.S. Chris and I had a wonderful honeymoon in Hawaii (Kauai and Honolulu) and are happily settled in our home in sunny Arizona. Come visit us sometime. :-)
Courtship begins (March, 2010)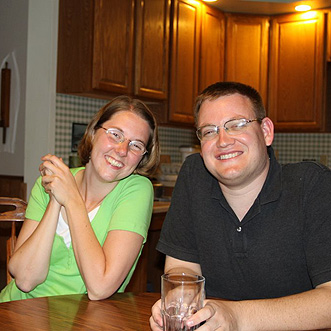 Enjoying conversation in WI (April, 2010)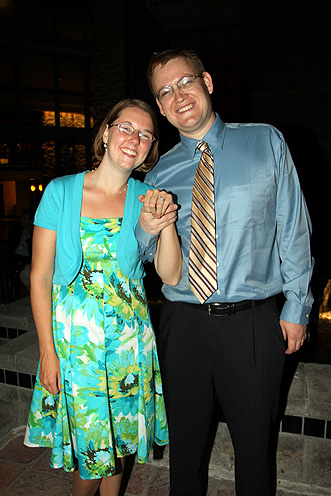 Engaged! (May, 2010)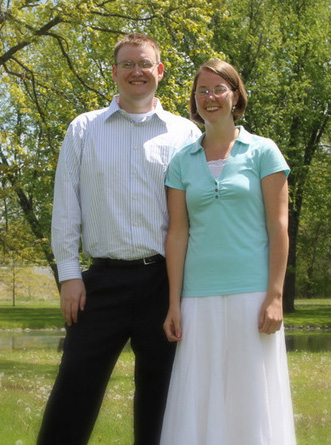 Chris and Jana at South Park (May, 2010)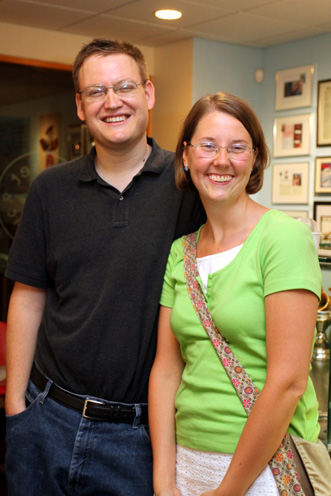 Chris and Jana at the ice cream shop (May, 2010)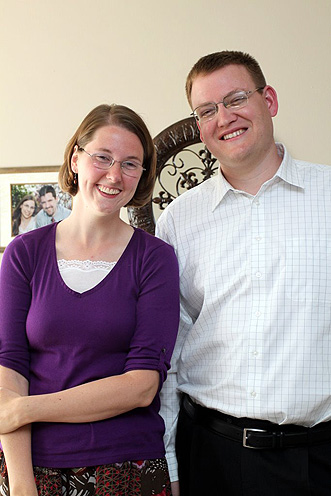 Jana and Chris (April, 2010)